DAVID ERIK NELSON —Raconteur
David Erik Nelson is a fiction author, freelance writer, and editor. His latest book is Snip, Burn, Solder, Shred: Seriously Geeky Stuff to Make with Your Kids.
In 1999 he co-founded Poor Mojo's Almanac(k) with Fritz Swanson and Morgan Johnson. For about a decade the three served as co-editors, writing her weekly Giant Squid advice column. (Since July 7, 2011 Poor Mojo's Almanac(k) has operated in automated archival "classic" mode, offering a weekly taste from her vast and terrifying archive of back issues.) Mr. Nelson continues to post to Poor Mojo's daily Newswire weblog, and to co-author Giant Squid columns and stories for periodical, anthology, and ebook publication.
FREELANCE
Mr. Nelson writes occasional columns for several publications (including the Ann Arbor Chronicle's In It for the Money column), in addition to writing and editing for a variety of obscure endeavors. He has edited more than a half-dozen educational anthologies, such as Perspectives on Modern World History: Chernobyl and Teens and Sex. He strongly urges teens to contact their local librarian should they experience any "feelings."

David Erik Nelson is available to write or edit materials for your promotional, educational, informational, or diabolical campaign.
BOOKS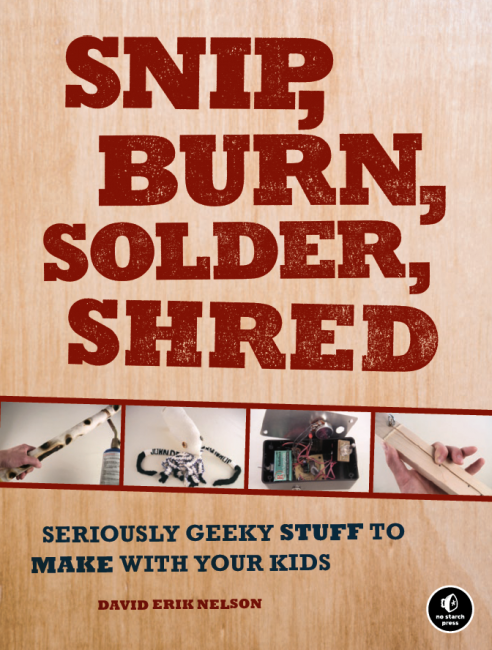 His geeky craft book, Snip, Burn, Solder, Shred: Seriously Geeky Stuff to Make with Your Kids, is now available in all fine real and virtual bookstores. Learn basic soldering, sewing, carpentry, woodburning, and screen printing while making x-ray drums, guitar effects, steam ships, boomerangs, kites, games, a sock squid, and more.
Seriously: order this soon.
— Rob Malda, founder of Slashdot.org
FICTION
His notable stories include "Bay," "You Were Neither Hot Nor Cold, But Lukewarm, and So I Spit You Out" (co-written with his lovely wife), and his novella "Tucker Teaches the Clockies to Copulate." His work has been published in Asimov's Science Fiction, praised in Locus magazine, honorably mentioned in several volumes of The Year's Best Fantasy and Horror and The Year's Best Science Fiction, recommended for a Nebula Award, and anthologized in The Best of Lady Churchill's Rosebud Wristlet (Del Rey, 2007), Steampunk II: Steampunk Reloaded (Tachyon, 2010), and Steampunk III: Steampunk Revolution (Tachyon, 2012).
Best of all is "Bay" by David Erik Nelson, a recontextualization of ghosts that is authentically surprising, genuinely horrifying—an extraordinary achievement in a hackneyed subgenre.
— Nick Gevers, Locus, September 2003 (Recommended Story)
included in the anthology The Best of Lady Churchill's Rosebud Wristlet
["Tucker Teaches the Clockies to Copulate"] is at one level nearly wacky, but it has deeper concerns, reflected in the examination of the treatment of such disadvantaged individuals as alcoholics, Confederate veterans, the Chinese, Jews, and of course clockwork ex-soldiers. It all comes together very effectively.
— Rich Horton, Locus, July 2008 (Recommended Story)
now available as a standalone illustrated ebook
SHOP